Post by guesswho? on Jul 2, 2015 10:25:25 GMT 2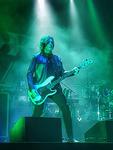 And what think the press about this wonderful song: CALIFORNIA 405?
What has been written about this song? To some people have reminded "Start from the Dark", also "Superstitious" in the intro, and everyone is agree that takes us to the 70s. To me this song is a clear example of the recovery by Dave Cobb of the keyboard as a prominence instrument in this album.


... " CALIFORNIA 405 comes next with an intro that reminded me "Superstitious" but with a more 70s feeling because of the retro keyboards ... " nikos
rockhard.gr/reviews/albums-reviews/13122-europe-war-of-kings-udr-records
" ... If your an enthusiastic night driver, California 405 should rattle your dashboard nicely. The soothing cruising rhythm and Norum's mouthwatering guitar solo are a stone wall truimph ... "
myglobalmind.com/2015/02/28/europe-war-of-kings-review/
" ... With "California 405" returns to the parallelism the Purple saga, but not to the seventies, is a halftime from eighties melodic "Perfect Strangers". The chorus is still very "Europe" and mellow, you'll love if you like the theme "Start From the Dark" ... "
mariskalrock.com/index.php/2015/03/02/europe-war-of-kings/
" ... "California 405″ opens with a The Doors-like intro, but quickly moves forward as one of those straight forward "drive-your-car-fast-with-your-soft-top-down-and-wind-in hair" kinda rockers. I love those and Europe masters this kind of song gracefully ..."
etainmentnewsreviews.wordpress.com/classic-rock/classic-rock-reviews/europe-war-of-kings/
" ... ... good taste and manners of Michaeli with his keyboard, as in CALIFORNIA 405", with exquisite chorus that surrounds you ... " Eva Tomorrow
www.maxmetal.net/2015/03/europe-war-of-kings/

" ... "California 405" looks like a refined version of "Start from the dark" ..."
fallenangelofrock.superforo.net/t29751-europe-war-of-kings-95-100




I think you used the right word,
Eva Tomorrow
:
california 405 is an
elegant
and beautiful song. From the first note until the last one.
Mic has probably a lot to do with it : his organ intro catch us immediately.
JTempest voice is bewitching. Strengthful and beautiful.
The melody is rich, oscillating constantly between minor and major keys, which makes we're never tired of the story it tells...
Great achievement, iMO. I've listened to this song many many times, and I'm still in love with it like the first day !
I praise EUROPE for the great hapiness and emotions they're still able to give us.
30 years after their begining, A band always so creative !
And remember they recorded it in almost one shot !